Family near and far? The Henriet family keeps family ties alive with a monthly family newsletter in newspaper format.
We all know how it goes: children leave the family home and spread their wings. Keeping in touch can get a little tricky when you don't see each other often. How do you keep up to date with each other? And how do you keep those family ties alive? WhatsApp, Skype and Outlook will get you far, but you can also get creative!
Family newsletters are a fun way to with family members near or far. And while you can always write and distribute a newsletter online, why not surprise your family with a family newspaper delivered straight to their letterbox. Super old-school and super personal! Your grandchildren will especially love it! Do you remember how exciting it used to be to receive post?
A newsletter in newspaper format gives you lots of space for the latest family updates, recipes, birthdays, milestones, puzzles and stories. And having everyone contribute to the contents of the newsletter will only further strengthen those family bonds!
The Henriet family show us how its done. Their monthly family newspaper has been dubbed the Echo Côtier. And what a hit it's proven to be!
The Henriet family newspaper
"My husband and I have three children and seven grandchildren (between 9 months and 11 years). Seeing as we're all spread across the Bretagne, Marseille and Paris region, we don't get to see each other as often as we would like. That's why a family newspaper seemed like a fun way to keep in touch.
The Echo Côtier is 4-page newspaper with a very simple and playful layout. The front-page story consists of a short article covering either an interesting fact (e.g. the oldest trees in the work) or a relevant report (e.g. the use of bicycles in everyday life).
The rest of the pages are filled with riddles, puzzles, drawings and other fun columns. We aim to add at least one column of interest for each child or grandchild. Admittedly, this can be a little tricky for a nine-month-old but is definitely feasible as of 18 months.
We quickly realized that the children were eager to contribute the family newspaper themselves: with movie recommendations, jokes and riddles, or arts and crafts projects. We even have added a column a dedicated to new slang words the grandchildren use. And the newspaper is brightened up with pictures that the children send us.
We first made a newspaper in November 2020. In the meantime, the Echo Côtier has been an (almost) monthly publication for over a year and a half now. 'Almost' monthly. Because on the rare occasions that we don't finished the newspaper on time, we simply decide to skip that month and start with the next. And that's completely fine. This helps us avoid any pressure or stress. And we also take a short break during the summer holidays.
The Echo Côtier has become a household name. Pardon the pun. The children and grandchildren eagerly anticipate the next publication. And if it's ever overdue, our grandchildren soon come knocking at our door: "So, when can we expect the next Echo Côtier?" Their enthusiasm is what drive us on!
De Echo Côtier is the Henriet monthly family newspaper
Full of puzzles, jokes and stories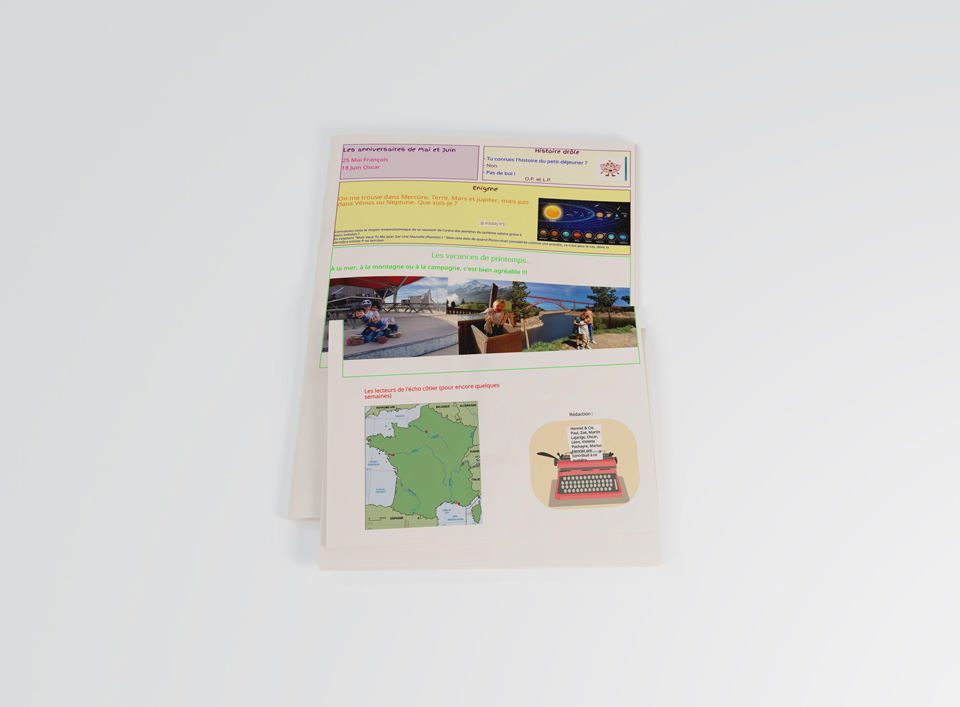 With everyone contributing to the content