How do I write a newspaper article?
Want to write a mock news article? With the online editor and newspaper templates form Happiedays, you can make your own homemade newspaper with the click of a button. How to get started? A newspaper article has a recognizable structure. That's why we've summed up the most important writing and design tips to give your news article a professional look and feel. Get started right away with one of our sample designs or opt for a blank template. Add text and pictures with the free online design tool to customize your paper.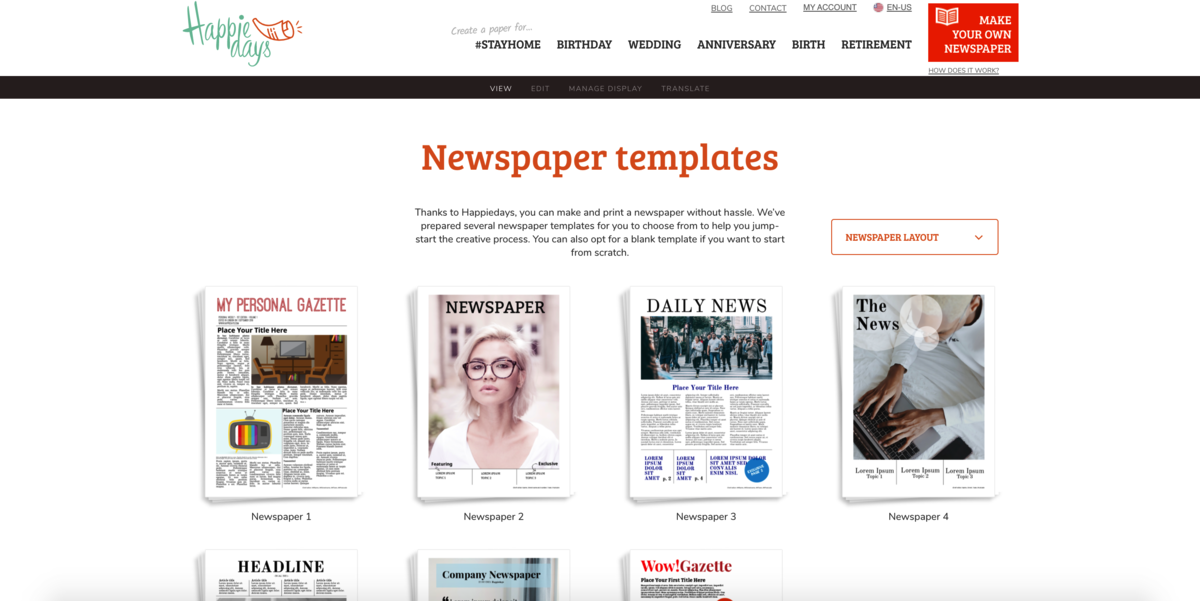 Choose one of our newspaper template and continue to our online design tool to start writing your news article
Writing tips
CONTENT
A journalist's job is to relay a newsworthy story as clearly and as informative as possible. Each article should therefore answer the 5 Ws: WHO, WHAT, WHEN, WHERE and WHY. You may also consider the HOW.
STRUCTURE
The answers to the questions above are set out in a news article with a set format. Each article starts with a catchy and informative headline. Quotes or data are a great wat to grab the reader's attention, but make sure it's still factually correct. A headline may be followed by a topic sentence. By way of introduction, this topic sentence summarizes the most important information of your article in one sentence. You'll usually find the answers to the five W questions here. The body text of the news article further elaborates on this story with the necessary background information, quotes and data. And don't forget to add a suitable and informative caption to the accompanying graphics, pictures or other imagery.
TONE
When writing your news article, make sure to keep a neutral tone. A journalist should aim to offer readers relevant, complete and objective information. Be critical of your own work: Is the information reliable? Which sources are cited? Were any experts consulted?
LANGUAGE
Like any written medium, it's important to pay attention to language use. Remember that the main focus of a news article is to give unbiased information. So, avoid unnecessary information and figurative language like personifications, metaphors, hyperboles, analogies that will undermine the facts of your news report.
Add text to your news article and keep in mind the traditional format and structure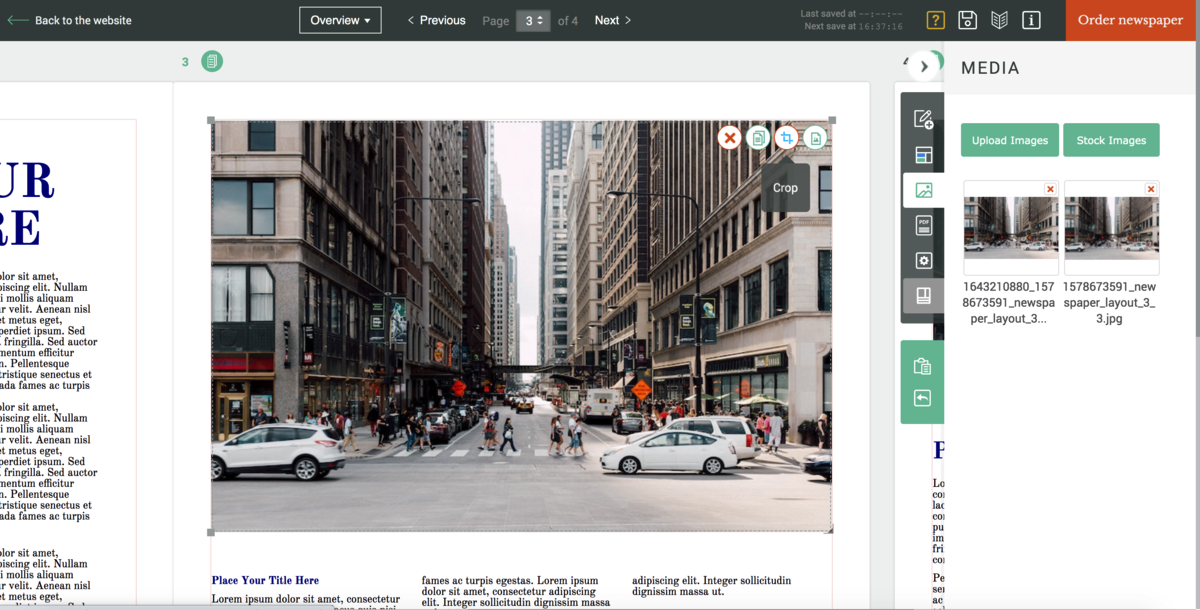 Make sure to add enough visuals to support the content of your article
Layout and design tips
COLUMNS
Newspaper articles are typically split into 2 or 3 columns, with a maximum of 5 columns across the page (depending on the font size). When using the online editor, make sure the text is evenly spread across the columns by making the text block bigger or smaller.
ALIGNMENT
When writing your news article, make sure the text blocks, columns, headings and pictures are neatly aligned both vertically and horizontally. Professional newspaper articles typically align their text to the left. The same goes for newspaper headings and titles. Use the grid to help you position the various elements of your design with regard to one another.
FONT TYPE AND SIZE
There's no standard font type or size for newspapers. But if you're looking to give your article a professional look, we recommend using a font with serif characters. Different options in our editor include Charis SIL, Dosis, Old Standard TT and Fairplay Display. We recommend a font size between 10 and 14pt for body text and subheadings. Titles should be considerably larger.
COLOUR CONTRAST
Ensure enough contrast between the letters and background to keep your news article legible. So, don't use any pictures or drawings behind the text that are either too vague or too busy. Generally speaking, dark letters on a light background is preferable. If you still want to add some colour to your newspaper, we recommend using a solid colour that offers enough contrast.
PICTURE RESOLUTION
Printed newspapers generally require a higher resolution than display screens. When using our online editor, we recommend a minimum resolution of 150 dpi. But don't get too hung up on the technics: most pictures taken with a smartphone meet the required norm. In case of low resolution, you'll receive a warning when uploading the image.
WHITE SPACE
While traditional newspapers tend to look crowded and busy, modern papers have a more serene look and feel. Use lots of white space for a clean, fresh and modern look. And make sure the news articles themselves have the same amount white space between the headings, paragraphs and pictures.
FRONT PAGE
There are few extra things to consider for the front page of a newspaper. Your font page is the poster child of your newspaper. Besides your news articles, it's also important to add the name of your paper, the logo, the date of publication, the edition number and the price. It's also common practice to add snippets of other news-worthy articles that can be found later on in the newspaper.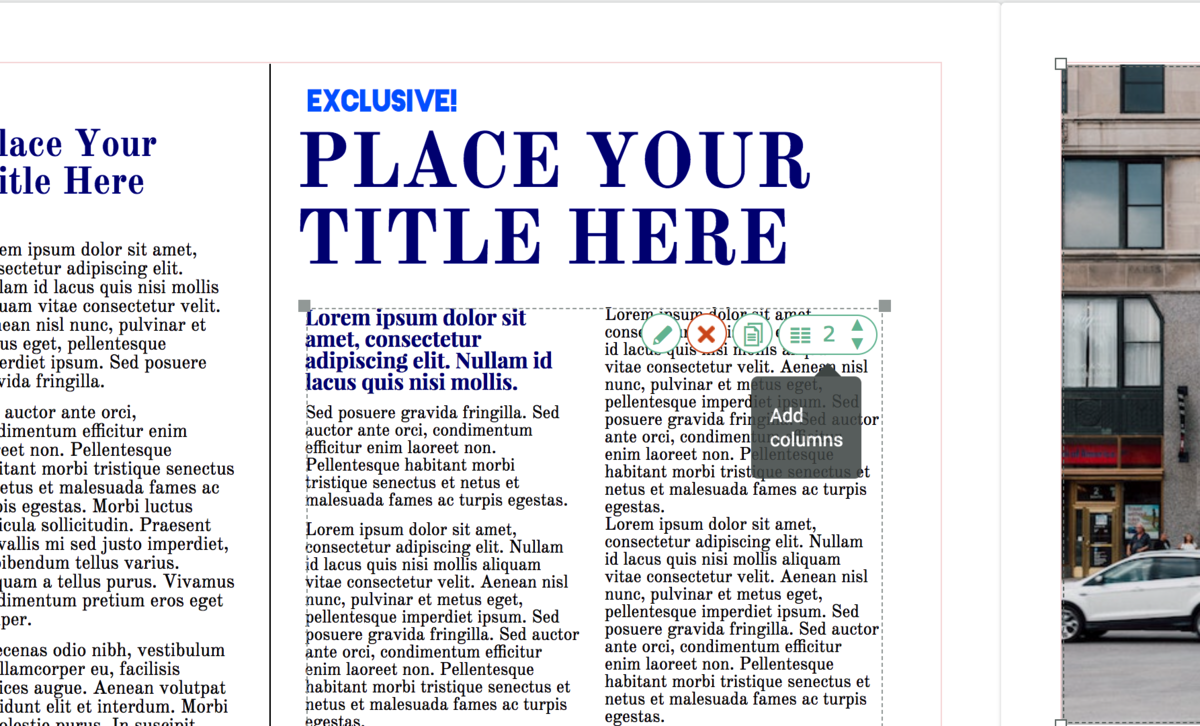 Split your text into columns for the typical look and feel of a news article
Use the grid to align text and images in your news article