3 reasons a personalised newspaper is the perfect gift idea
Finding the perfect gift isn't always as easy as it seems. We want something original, unique and creative. But without much inspiration, we usually fall back on a simple greeting card. A unique, printed newspaper is the perfect surprise for friends and family. It's unique, personal and original: all the criteria the perfect gift has to meet.
Why a newspaper is the perfect gift idea
1. It's personal and personalised 
Finding the perfect gift can be tricky. How do you make sure your gift is original enough? Unique enough? Creative enough? The most important piece of advice we can give is this: make it as personal as you can! A personal gift is always matched by a sentimental worth. That's why a meaningful, personalised gift idea is a lot more special than your average gift. And what's more personal than a personalised newspaper full of fun facts, embarrassing photos, important milestones and personal messages?
2. It's homemade and DIY 
A personalised newspaper means you've not only taken the time to come up with a fun and original gift idea but you've put a lot of effort into making it too. And it doesn't take a lot of expertise either. With just a little creativity, you can (digitally) craft your paper in no time! And unlike normal greeting cards, personalised newspapers offer you way more space for all you design ideas. That way, you can make your paper as personal as you'd like, with artistic layouts, creative photocollages and fun reports. Because as you well know, it's the thought and considerations that's gone into your gift that truly counts.
3. It's a keepsake for life's milestones
Giving someone a gift at an unexpected moment is pretty original in itself. But personal gifts are usually linked to an important event in someone's life. This shows them that you're thinking about them, that you care for them, and that you want to celebrate their milestones. Whether it's your parents' wedding anniversary. Your best friend's birthday. Your colleague's retirement. Your boyfriend's graduations. Or for no particular reason - simply because you love them. Because who doesn't love being surprised with an unexpected gift.
Make your own newspaper online
Thanks to Happiedays, you can make and print a newspaper without hassle. For family, friends, colleagues, teammates… With our free online tool and newspaper templates, you can create your own personalised newspaper in no time! We'll print and deliver your paper starting from a single copy.
1. Choose your template
We've prepared several newspaper templates for you to choose from to help you jump-start the creative process. You can also opt for a blank template if you want to start from scratch. The templates are completely editable, so you can choose which elements to keep. Can't choose? Combine your favourite elements by simply copy-pasting from different templates.
2. Edit your layout
Edit the layout of your template to design a newspaper that's completely tailored to your needs. You can easily add your own images and content to your paper. Drag, rotate and change the colours and format. Add Word or other documents as a PDF file. Looking for the look and feel of a traditional and authentic newspaper? Or prefer a more playful design? Liven up your paper with backgrounds, speech bubbles and stickers. The choice is up to you!
3. We'll print and deliver
Once you're ready with your design, you can go ahead with placing your order. You can indicate how many copies you wish to receive. Small print run? No problem! We'll print your paper starting from a single copy and have it delivered to your friends' and family's doorsteps.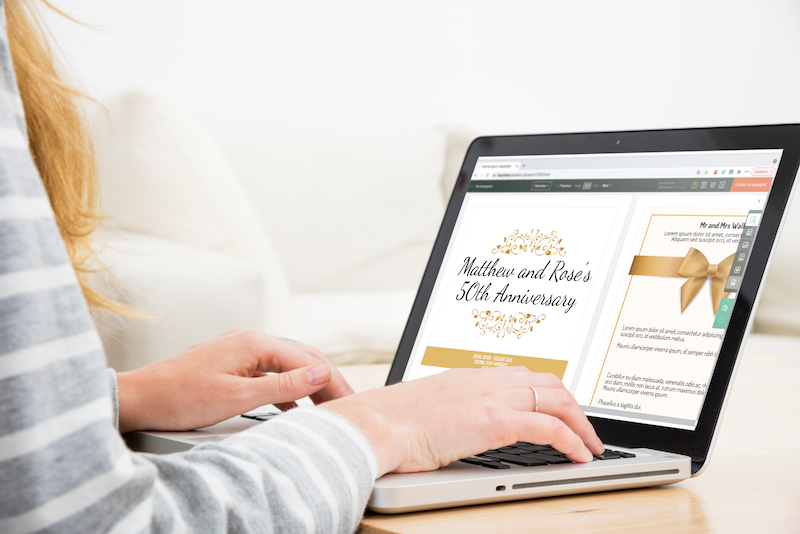 Design your own newspaper with our simple online tool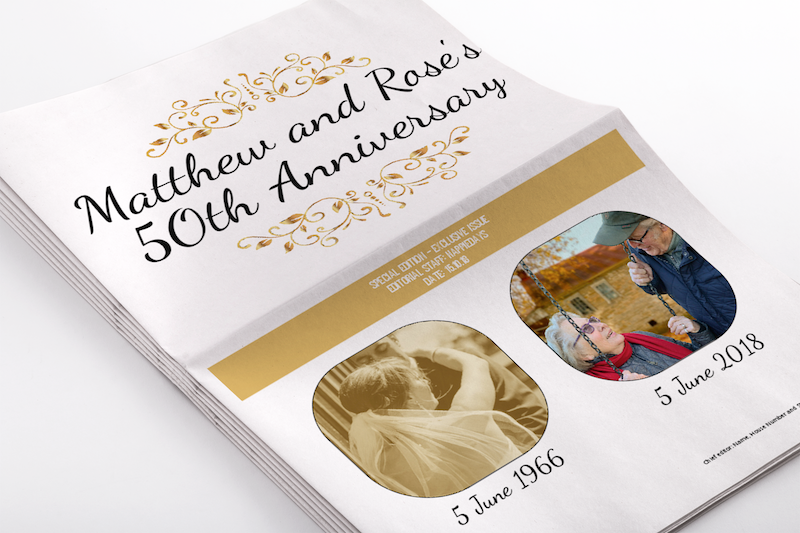 We'll print and deliver it to your doorstep
A personalised newspaper gift for every occasion
Birthday: Finding the perfect birthday gift isn't always as easy as it seems. We want to find something fun and original, but often lack inspiration. A personalised newspaper full of best wishes, fun anecdotes and embarrassing memories is definitely a unique and original gift idea!
Wedding: While many couples appreciate a monetary contribution, a standard envelope can feel slightly impersonal and uninspired. So why not get creative with your own personalised newspaper filled with photos, best wishes, milestones and memories. This small but thoughtful gift means you're still able to contribute to the couple's gift wish while also providing them with a special and thoughtful keepsake.
Retirement: A box of chocolates or a bottle of champagne are fun gift ideas but they lack that extra personal touch. And the card you've chosen has limited writing space. That's why a retirement newspaper is the perfect farewell gift: it's super original, extremely personal and meaningful, and it has plenty of space for you to thank your colleague extensively.
Anniversary: Looking for the perfect gift idea for your parents' 50th wedding anniversary? Surprise them with a personalised newspaper filled with best wishes from friends and family, and take a trip down memory lane as you recount their first encounter, wedding day, and relationship milestones.
Company: Do you want to surprise your customers, employees or colleagues with a unique gift? Turn your digital newsletter into a special printed edition with a bunch of fun photos! Or celebrate the 25th anniversary of your company or organization with a company newspaper in which you take the time to extensively thank your colleagues and employees.
Mother's Day: Mother's Day is the perfect opportunity to show your mom how much you care. It may sound cliché but the old aphorism still holds true: it's not the monetary value of your gift that counts; it's the thought! Your mom will love a meaningful, homemade gift! And what's more personal than a personalised newspaper?
School: At the end of the school year, pupils often bring a small gift to thank their teacher. A personalised school paper from the entire class is a fun and original gift to say thank you! Take a look at the highlights of the past school year and take the time to wish your teacher farewell.
Friends: Do you have a one-in-a-million friend? Don't tell her enough? Here's your chance! You undoubtedly have heaps of fun memories together. Collect your best adventures in one story and surprise your bestie with this unique and original gift – for no particular reason, because you can!