Make your own holiday newspaper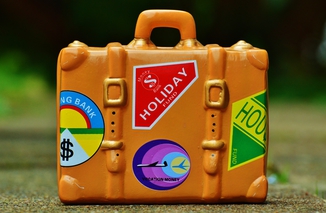 Have you already been on holiday or are you planning a trip away sometime soon? Then why not create your own, personalised holiday newspaper? Think of all the fun possibilities! You can turn your holiday newspaper into a fun and original travelogue for family and friends; an exclusive and one-of-kind photo album; a lovely keepsake filled with great memories of your trip; or a unique and creative invitation with your travel itinerary and preparations in order to get your fellow travellers raring to go! In short, anything is possible!
Your holiday newspaper is the perfect travel guide for your upcoming trip
Are you organising a holiday, excursion, city trip or weekend away for your friends, family or colleagues? Or are you looking for a fun and creative way to get your fellow travel companions ready and buzzing for your holiday? Then you've come to the right place, here at Happiedays! You can create your own personalised newspaper detailing your travel itinerary, programme and preparations, and have it delivered to your travel buddies' doorsteps. A holiday newspaper is the perfect way to inform and enthuse your fellow traveller for what's to come!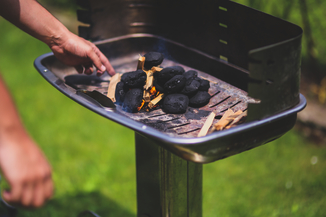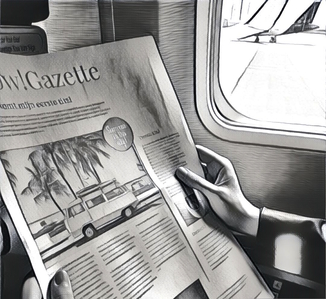 Things you can't afford to leave out in your newspaper travel guide:
Departure date, time and place – Let your travel companions know where you're meeting up on the day of departure and remind everyone of the practical arrangements (who's organising the airport shuttle, who's picking up who, …)
Travel programme and itinerary – Give a short summary of all your planned travel activities. If you've organised any surprises in you travel itinerary, this is where you can drop hints and gauge everyone interest.
Fun facts about your holiday destination – Immerse your travel buddies in the local culture and share some well-known (and some lesser-known) historical facts. That way you can get everyone up to speed upon arrival!
List of the main tourist attractions – Be sure to include some hidden gems, picturesque landscapes and culinary hot spots in your list, as well. You don't have to unveil all of them right away, of course: fun surprises can make your holiday even more memorable!
Travel packing checklist – Help your travel companions with packing their bags. What are the packing essentials? What may prove useful and what should you leave at home? With a good checklist, everyone will be sure to come prepared and you can avoid any unpleasant surprises. Not sure what to add to your checklist? One word: Google! You'll undoubtedly find heaps of holiday checklists as well as useful tips and tricks for packing. Be sure to specify the type of holiday you're going on, though: a hiking trip to the Scottish Highlands will require different essentials to a beach holiday on the Greek islands.
Useful words and phrases from the local language – How  do you greet a local resident or thank a waiter at a restaurant? It's always fun to know these things. But don't be afraid to let your imagination run free and look up some fun and original phrases that you wouldn't normally find in a standard travel guide.
Whether you've planned a beach holiday in the sun, a safari trip in the savannah or a luxury getaway in a five-star hotel, one thing is certain: a holiday newspaper travel guide is always a bit hit with your fellow travel companion!
Your travel newspaper is the perfect tangible holiday souvenir
No matter how much we look forward to it, there's no getting around the fact that your holiday always seems to be over in the blink of an eye. Before you know it, you're at home thinking back on the walks on the beach, the hiking trips through the mountains, the architectural beauty of the historic city centres, you name it! You'd like nothing more than to pack your bags and head back to relive your holiday experience.
Unfortunately, that's not an option. The only thing you can do is repeatedly scroll through your holiday photos, share your memorable stories and adventures with your friends and family and meet up with your travel buddies to reminisce about your wonderful trip together.
But don't fret! Thanks to Happiedays, you can collect all your holiday memories and photos in a personalised newspaper that's guaranteed to bring back that lovely holiday feeling.  And we've already prepared a holiday newspaper template for you so that you can start working on your souvenir immediately.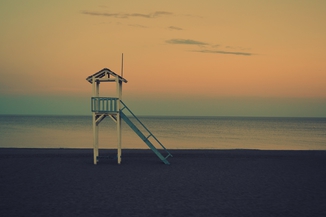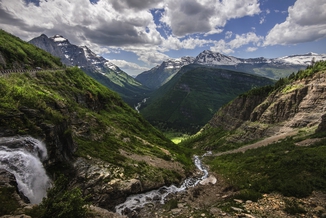 Things you can't afford to leave out in your newspaper holiday souvenir:
Photos – You've undoubtedly taken many, many, holiday photos. You can easily add a carefully-chosen selection of these photos in your holiday newspaper. There are many different types of photos you can add to your newspaper: group photos, portraits, selfies, landscapes, panoramas, etc. Add a bit of everything and try find the right balance.
Anecdotes – After a holiday, you usually have tons of stories and anecdotes to share about all the thrilling, beautiful and funny moments you experienced. Most of your holiday photographs can easily be paired with a memorable anecdote or fun memory. You can share these stories as a caption to your photo or as a newspaper article accompanying your pictures.
Quotes – No doubt, there were lots of funny, silly and inspiring quotes from your holiday that will stick with you forever. Alternate your photos and anecdotes with several quotes and phrases from your fellow travellers that became the inside joke during your trip. Make sure the quotes stand out in your newspaper by using a different font, size, colour and frame to the rest of your content.
A holiday newspaper is highly recommended for all those who wish to reminisce about their travels - that way, you have a tangible souvenir filled with your favourite memories of your "happie" holiday.
Your travel newspaper is the perfect travelogue for an unforgettable holiday
You can also turn your holiday newspaper into a fun travel report for your fellow travellers, friends and family or simply for yourself. A travelogue is a fun holiday keepsake or gift for your travel companions as well as a unique overview for those who couldn't join you.
Start your newspaper travelogue off with a quick summary of each day. Briefly list the historic sites and tourist attractions you visited or the different activities you did throughout the day. For each day you've listed, you can reference the page number of your newspaper in which you give a more extensive and more detailed description. That way, you have a schematic overview of your holiday in the beginning of your newspaper and you can easily locate everything in your travelogue.
As you flick through your travelogue, it's now time to give a more extensive description of each day with a detailed overview of the day's activities and attractions. This can include anything from visiting certain historic sites, to hiking through the mountains, to lazing around the pool. Complete your detailed report with some accompanying photos and fun quotes.
If you have many fun photos of your holiday and are finding it hard to make a limited selection, you can always turn your newspaper and holiday travelogue into a fun and original photo-reportage. Instead of using texts and articles to describe your days, you can use your holiday photos accompanied by a short description.