How do you make a newspaper with Happiedays?
Happiedays is an online tool which allows you to make your own newspaper online as well as have it printed and delivered. Happiedays is a great way to capture those special moments, whether personal or as part of a small group (clubs, organisations, youth movements, companies, etc).
To help you with the process of making your own newspaper, we've prepared a short instructional video to guide you.
In this video, you'll discover how to import and position photos and other content, how to add graphic elements, how to adapt stylistic properties, etc. Pay close attention to the video: it will help you master the techniques needed.
You'll be editing your own newspaper like a pro once you're done!
A newspaper for every special occasion
Ever thought of making your own newspaper? There are plenty of special occasions worth celebrating with such a unique memento. What's better than capturing those fun and memorable moments forever with your own newspaper, with your own photos and content?
Maybe you're celebrating a personal day of bliss, like a wedding or an anniversary? Or maybe you're celebrating your favourite sport team's championship season? Or perhaps you've just come from a far and unforgettable backpacking trip through Southern Asia? This would all make for great topics for a personalised newspaper! And a newspaper is far more original than a regular photo album (even if it is digital).
Was this year's summer scouts camp a big hit? Make your own newspaper sharing all your favourite stories and photos and have the guides and other members pitch in!

Why make your own newspaper online?
A personalised newspaper is the perfect gift idea! Do you want to wish someone a happy birthday with an original present? Or do you want to document your favourite memories? Give it a go with Happiedays!
A newspaper is also a great way to send someone your well-wishes: so why not ditch the traditional greeting card and opt instead for something new and unique in the form of a newspaper? Or swap the thank-you card for a thank-you newspaper which you can use for a whole bunch of special occasions; or for no reason at all, just to show your love and appreciation for that special person.
Make your own newspaper to invite your guests to one of your parties, or to thank them afterwards. You can have your newspapers directly sent and delivered to specific addresses: a quick and easy delivery without any hassle! Or if you want to surprise your guests at the party, you can have personalised newspapers as centrepieces or menus.
A newspaper is also a great way to share information with your focus group, or just to communicate in general. A personalised newspaper will always do a far better job of capturing your reader's attention.
Does a personalised newspaper seem like a good idea to you? Our user-friendly editor is a great tool for inserting images and content or for making a fun photocollage. Plus, it's a far more affordable option than a regular photo album. Become editor-in-chief of your own newspaper with Happiedays!
We process and print orders both large and small. And each copy is unique! We're happy to help in any way possible, so don't hesitate to contact us if you have any questions.
Making your own newspaper is quick and easy – and affordable!
Making your own newspaper isn't hard to do with Happiedays. With our user-friendly online tool, it's basically child's play.
Choose a topic
What is your newspaper going to be about? There are numerous topics to choose from, so pick whichever tickles your fancy. Your parents' upcoming golden anniversary, for instance?
Click on "Make your own newspaper" on the top right corner of the Happiedays website. You can choose one of the templates we've prepared for you or you can opt for a blank template if you want to start from scratch.
Make your own newspaper. Our step-by-step guide will help you on your way.
Place your order. The Happiedays team will take care of the rest.
Is this the first time you're making a newspaper with Happiedays? Then be sure to have a look at our roadmap which is the perfect step-by-step guide. It will help you kick-start the creative process and ensure you're satisfied with your end product.
Do you have any questions? Take a look at our FAQ or send us an email at info@happiedays.co.uk.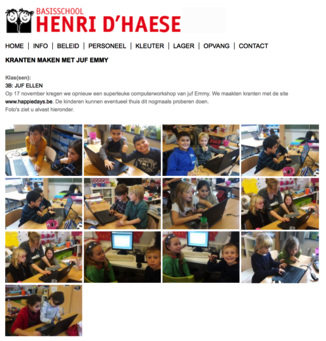 Computer workshop
Are you organising a computer workshop for children or adults? Our website is not only lots of fun to use but it can also be a useful educational tool. With the help of our instructional video, you can learn basic techniques which also commonly feature in other computer programmes.
We've had several primary schools teach their pupils how to make an online newspaper using our online platform. And it's always been a big hit! Creating an account is free of charge: get started immediately and hassle-free.